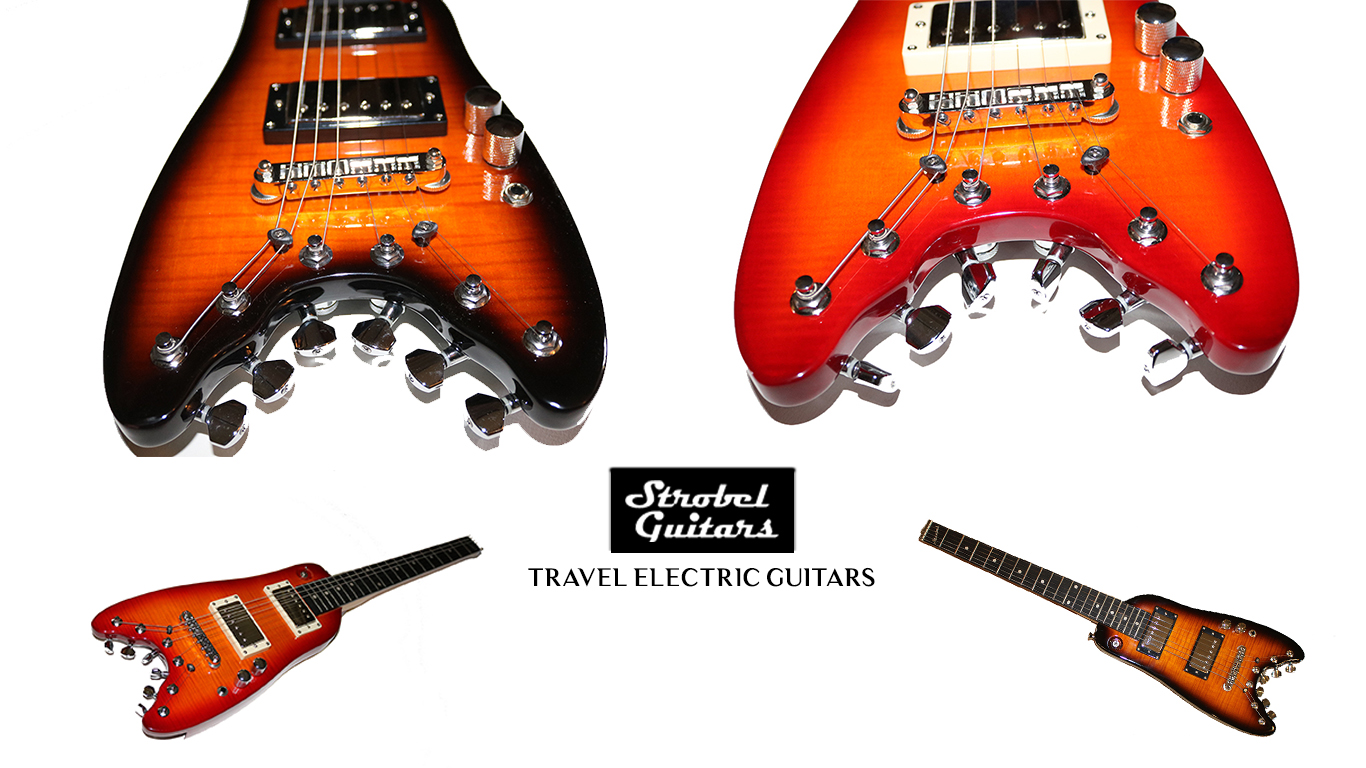 STROBEL GUITARS |

BEST TRAVEL GUITAR
Welcome to Best Travel Guitars, owned by Strobel™ Guitars.  We manufacture a full line of the best electric travel guitars and electric travel bass guitars.  Our instruments are among the best travel guitars on the market because they are first and foremost full-scale great playing and great sounding guitars of the highest quality.  Our Strobel™ Rambler® Professional Electric Travel Guitars are only 30″ long (assembled) and weigh less than 5 pounds. Our travel guitars have fully detachable necks to make them easy for taking your guitar on an airplane, boat, motorcycle, camping, etc.   The body and the neck fit separately in your computer bag, backpack or briefcase. There are a lot of travel guitars to choose from, but many are short scale, don't come apart or just don't sound or play very good.
Our models start with the affordable Rambler® Classic, a dual humbucker Les Paul set up.  Available in either Tobacco or Cherry Sunburst, for only $599 including a custom padded and embroidered gig bag.  For those players that prefer the single coil Stratocaster sound, we have the STROBELCASTER™ outfitted with three single coil pickups and 5-way switch.  These guitars have a fully adjustable Tunomatic bridge, double action truss rod, and locking machine heads.  The Rambler® Classic and STROBELCASTER™ are also available in Custom models with your choice of woods, color, hardware and many other options starting at $1699.  The Custom models are made by hand in our Custom Shop in Boca Raton, FL and come with top of the line hardware from Schaller.  We round out the product line with the Strobel™ Rambler® Custom Bass guitar, a short scale bass with an easily detachable neck, starting at $1599.  All our guitars and basses come apart and go back together in about two minutes, no tools required.
RAMBLER CLASSIC
Our most affordable travel guitar is the Strobel™ Rambler® Classic Professional Electric Travel Guitar – The perfect choice for the musician that needs a full-scale great playing, lightweight guitar.  Experience the Power of Portability, and the Freedom to Play wherever you are. Outfitted with dual humbucker pickups and a 3-way selector switch as well as volume and tone controls – our Rambler® Classic holds its own versus any Gibson® Les Paul, but costs much less and weighs less than 5 pounds (much easier on the shoulder).  
The Rambler® Classic is a great portable guitar, with a fully adjustable Tunomatic bridge, dual action truss rod and locking machine heads.  The body is solid maple with a flamey maple top. The maple neck features an ebony fretboard. The latest improvements to the Rambler® Classic Travel Guitar include a TUSQ® nut and string tees (all features normally found on guitars costing much more).  Best of all, our travel guitars have an easily detachable neck so you can take your Rambler® in your computer bag, backpack or briefcase!  The best guitar for taking on an airplane – put your guitar in your carry-on bag, and have your gig ready guitar on board!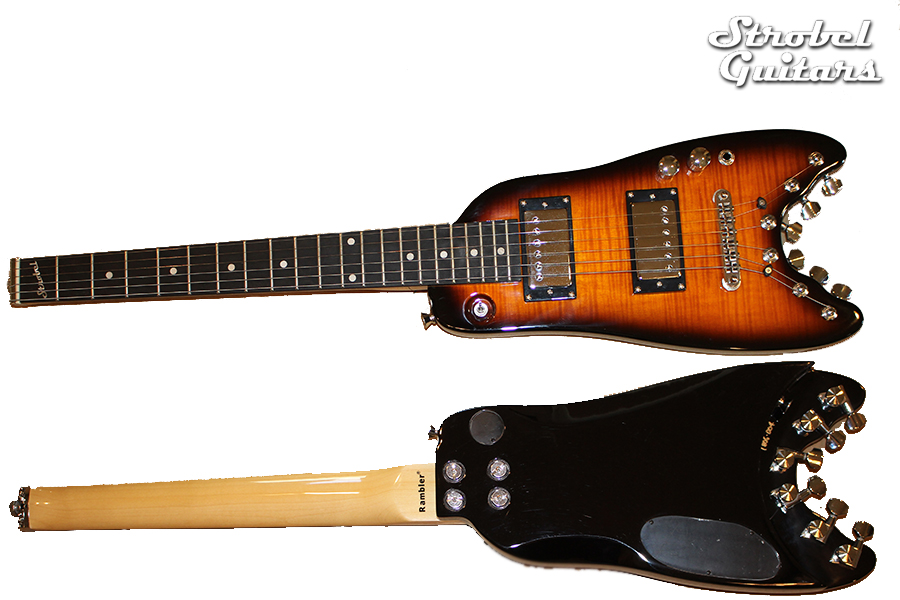 RAMBLER CUSTOM
Our Strobel™ Rambler® Custom Travel Guitar will make any guitar player's dreams come true!  If you've been playing a while, you probably would like a guitar designed and built just for you.  Imagine having any tone wood you want, any color you like, a perfect neck profile, your favorite pic ups, the best hardware (gold maybe?) and knowing you are playing one of the best American Made electric guitars, hand built by our Master Luthier, Russ Strobel.  As a professional electric engineer (and amateur guitar player) Russ realized during his many work-related travels, that somebody needed to make a decent travel guitar. So, he invented and patented the Strobel™ Rambler® Travel Guitar.  Whatever you can imagine, Russ will work with you to deliver the guitar of your dreams.  Some of the options include a AAA Quilted Maple Top, Gold Hardware, Coil Tap, On Board Pre-Amp, Piezo bridge (Active or Passive), Custom Inlay; plus many others.  Like all of our Strobel™ Rambler® guitars and basses, these Custom Guitars have the patented Strobel™ Easily Detachable (SED) neck so you can bring your guitar along in your computer bag, backpack or briefcase.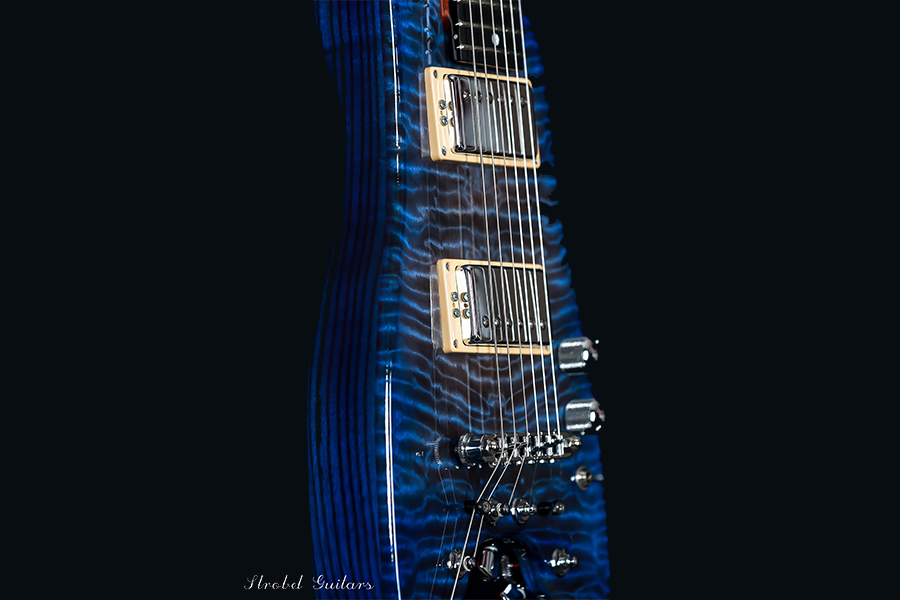 RAMBLER STROBELCASTER
With the success of the Rambler® Classic and Custom Travel Guitars, Strobel™ developed a new single coil version full scale portable guitar with the same great detachable neck system.  The STROBELCASTER™ electric travel guitar is our newest model.  The STROBELCASTER™ Standard is offered in Gloss Black with a white pickguard and maple fretboard, or in Gloss White with a vintage tortoise shell and rosewood fretboard. If you like playing a Stratocaster®, the STROBELCASTER™ is the travel guitar for you.  Appointed with three single coil pickups mounted in a Custom designed pickguard along with a five-way switch and tone and volume controls, you get all the great tone combinations that made the STRAT famous.  Also included is a Tunomatic bridge, locking tuners and double action truss rod. The STROBELCASTER™ is hand built in our Custom Shop in Boca Raton, FL.  Upgrades include the STROBELCASTER™ Plus (upgraded hardware, and choice of several vintage colors) and the full blown Custom STROBELCASTER™ with your choice of wood, color, neck profile and many other options.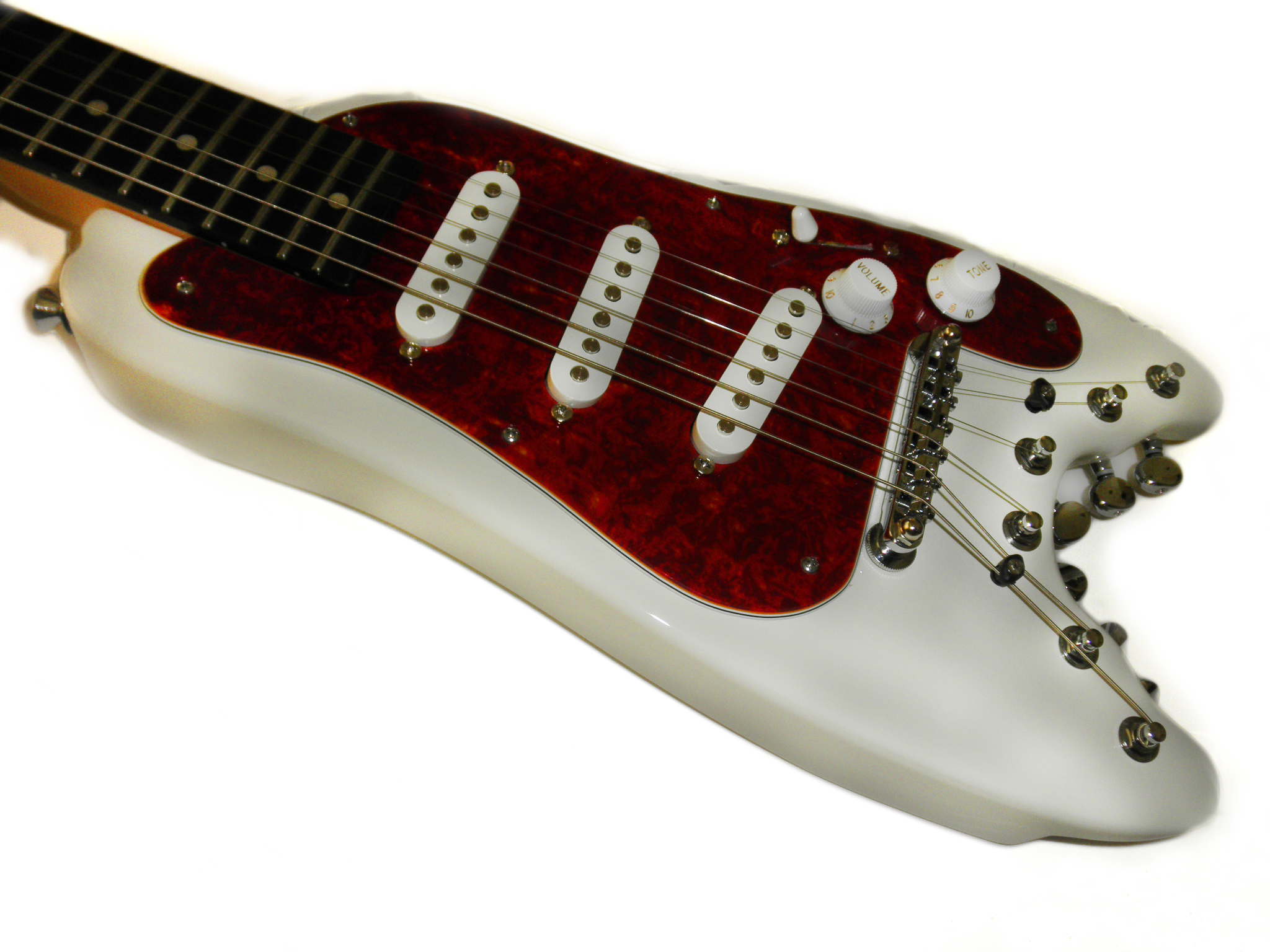 RAMBLER BASS
Strobel™ Guitars also offers the Rambler® Custom Bass Travel Guitar utilizing the same patented technology and detachable neck system as we have on our Rambler® Professional Electric Travel Guitars.  The Rambler® Custom Bass is a short scale (28.5") set up to play and feel like a vintage Fender® P-Bass.  We offer top of the line Schaller® hardware including the 3-D4 roller bridge and locking tuners.  A fully custom instrument – you choose your color, wood selection, fretboard, and custom inlay.  Upgrade options include a AAA quilted maple top and gold hardware. Our Custom Rambler® Travel Bass disassembles so you can take your Bass in your carryon luggage or rollaboard.  Imagine being able to fly with your gig ready Strobel™ Custom Bass and not having to check an extra bag, or hassle with the airline staff to get your Bass on board!  Let us build the Custom Bass of your dreams!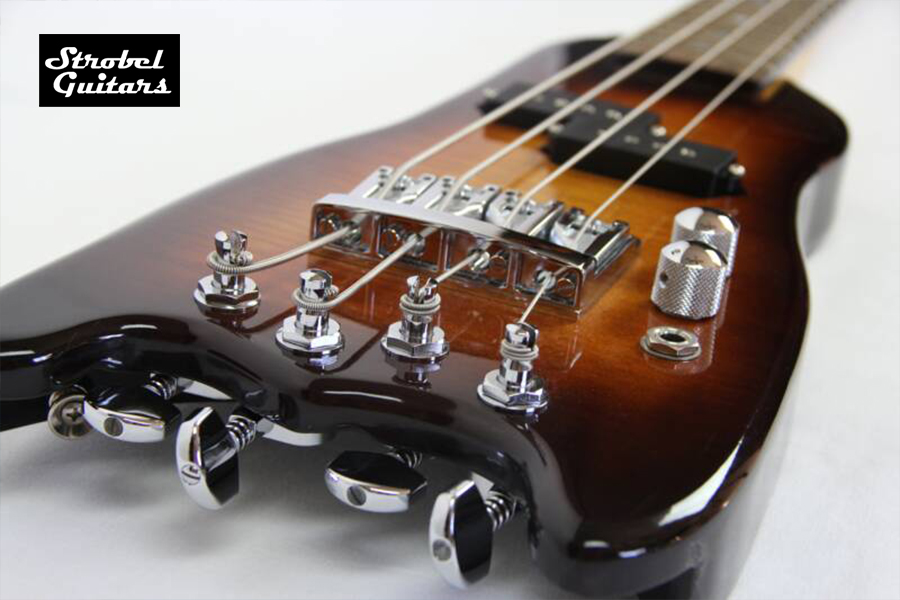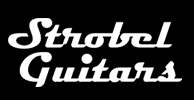 Company Info
Strobel Guitars
Boca Raton, Florida   33498
United States
Phone number: 561-488-5698